Nautical Hatch Cover Table or Nautical Desk
Can be used as an Eat In Kitchen Table or Executive's Captain's Desk.
Includes Hatch Cover and Nautical Trestle!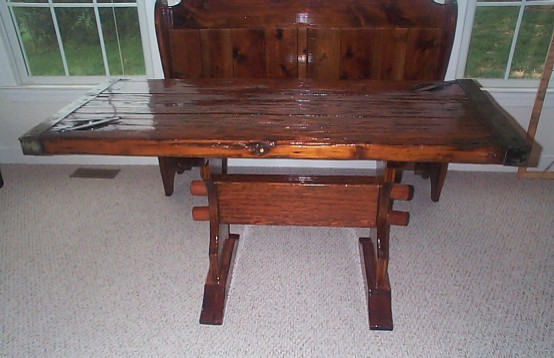 Click Photo!
60"x29"x2.5" and 31" High From Floor to Desk/Table Top - 125lbs - Complete Desk Top or Table Kit Ready For Assembly! Beautifully restored authentic WW2 Liberty Ship Hatch Cover sitting on a painstakingly hand crafted Trestle with a Nautical Flair! First class craftsmanship befitting any Captain or nautical minded Executive! Perfect as a kitchenette table in a small alcove or eat-in-kitchen, or as the centerpiece Office Desk in a nautical theme or decor home office.
$1295.
Sold
Call To Order
540-659-6209