John 5:24

"Home is the Sailor, Home From The Sea.... And The Hunter, Home From The Hill"
Permission Granted To Come Aboard...
..And Welcome To The Pirate's Lair!
a division of DataCity, Inc.

Click Here and Return to The Pirate's Lair Home Page www.thepirateslair.com
RESTORED ANTIQUE TRUNKS FOR SALE! THE PIRATES LAIR IS THE SINGLE LARGEST SOURCE IN THE WORLD AND CERTAINLY ON THE INTERNET FOR 100+ YEAR OLD RESTORED ANTIQUE TRUNKS ALL HAVING THAT SPECIAL PIRATE CHEST, SEA CHEST OR TREASURE CHEST NAUTICAL DECOR
All Sizes and Styles of Dome Tops or Humpbacks, Flat Tops, and Roll Tops - All Wood Pine, Oak & Pressed Tin - by Excelsior, Martin Maier, Other Famous & Not So Famous 19th Century Manufacturers! Scroll Down To Review All 100+ Available Restored Antique Trunks Each with a Trunk #, Mulitiple Photographs, Description, Measurements, and Price!
Spring 2021 We are currently restoring antique trunks for the 2019 Season and will have a wide array of fully restored small, medium, to very large flat tops, roll tops, and dome tops, and currently have over 100 to choose from. Additionally, we have added many hard to find or one-of-a-kind Naval Antiques from many of the navies around the world to our collection for your review and interest, many available for sale.
All of our Restored Antique Trunks For Sale
are in original condition and restored in such a manner as to be aesthetically pleasing and environmentally safe for use in a contemporary home. We never put on additional hardware other than to replace an original missing or broken part. Unless otherwise noted ALL of the liftout trays, special hidden compartments, Victorian lithographs, pressed tin or cast iron hardware, and locks are all original to the antique trunk as it was constructed over 100 years ago.

These Antique Nautical Trunks are easily re-purposed as Military, Army, Air Force, Marine Corps, Coast Guard, or Navy Retirement Shadow Box (Navy Shadowbox) to safely display medals, ribbons, awards, flags and uniforms collected over years of military service. Perfect naval retirement, promotion Gifts and uniform storage, this old trunk used as coffee tables and end tables. All of these restored antique trunks whether large or small all have the same piratey appearance and nautical decor as your traditional "pirate chests, sea chests, or treasure chests" we have seen in movies and heard described. These nautical antique trunks were made for storing ones treasures while traveling and in most cases certainly have seen their share of traveling on stage coaches, locomotives, covered prairie wagons, steam and sailing ships in the day of sail.




Many Restored Antique Trunks and Models For Sale to Choose From - Nautical Antiques Styled like Sea Chests, Pirate Chests, Treasure Chests. Huge Assortment are Available to Choose From in Dome Top, Camel Back, Hump Back, Roll Top, and Flat Top, the rare Theatrical Trunk. Jenny Lind, Excelsior, Martin Maier, Louis Vuitton, Saratoga Trunks and Others.

SEE TRUNK #908 and #909 BELOW AVAILABLE FOR SALE!

The Pirate's Lair offers expert information on and is the world's largest single source for authentic Antique Trunks Available For Sale. These beautifully restored authentic Dome Top (also known as hump back, humpback or camel back) and Flat Top Trunks are circa 1840 to 1900 and many have literally travelled around the world many times over before coming to you! All Restored Antique Trunks For Sale have been carefully restored and refinished using the same craftsmanship, technique and tools that were used during their original production. These Authentic Antique Trunks and Chests would make the perfect complement and compliment to any home decor as antique coffee tables, storing military uniforms and military memorabilia, unique family room storage cabinets for videos, CD's, or games, or for your traditional antique hope chest!


Availability of Restored Antique Trunks For Sale Updated Daily - Can Ship UPS Insured Ground Within 24 Hours of Purchase

Continue Scrolling Down To Review Restored Antique Trunks
This old trunk found here are restored to provide another 100+ years of faithful service! It is our hope and desire that the care we have taken in restoring these antique trunks will not only be useful in providing both beauty and function to its new owner, but will eventually become a family heirloom and legacy for coming generations. Anyone who has restored these antique trunks knows that it truly is a labor of love, every one of them being different and unique. It would give us no small amount of pleasure to think that we not only were able to save these old 100+ year old trunks, but that we were able to restore them to be used for another 100+ years!
Note the two restored Nautical Antique Trunks (both are Dome Top, Humpback or Camel Back models) in the photo to the left with each being 100 to 125 years old, they are being used as office filing cabinets as they have hanging file folders in them and the lift out trays have all of the staplers, tape dispensors, pens, paper and other items normally used in an office! Many of these antique trunks have patent dates on the ornate hardware and locks which helps to identify the time period when they were made.


Every antique trunk offered has been painstakingly restored so as to be used today in contemporary and unique ways such as a filing cabinet which can hold up to 200 hanging file folders, staplers, tape dispensers, pens, and other office items normally found on a typical desk.

These antique trunks after being fully restored have transcended their original purpose in both beauty and function as they are now fine furniture which can be displayed in the most discerning waterfront nautical home decor!

Why take away from the beauty and sophistication of your home or office by having utilitarian looking steel filing cabinets and storage in your home or office when you can have these beautiful richly appointed antique steamer trunks in their stead!
Chromolithographs or Victorian Lithographs Found on Restored Antique Trunks Here at The Pirates Lair!

Many of our restored antique trunks were decorated with beautifully detailed and colorful Victorian Chomolithographs, or just lithographs for short. During the trunk restoration process we were able to save these lithographs and professionally restore them as well so as to provide many more years of visual pleasure as well as keeping the continued value and monetary appreciation of the trunk. Lithographic technology was developed in the 19th century and the process was extremely labor intensive, but the results were fantastic. Here is a brief description of how these Victorian Chromolithographs were produced:

The chromolithograph process is a planographic (flat surface, as opposed to raised or relief) printing method, which is employed in creating multiple colored prints. The technique involves drawing an image onto a stone or zinc plate with a grease-based crayon.

The stone is then gummed with gum arabic and nitric acid. Then, the stone is inked with oil-based paints and run through a printing press in conjunction with a sheet of paper, which is used to transfer the image onto the paper. Color is added by utilizing a separate stone to draw where the color is to be applied.

It then passes through the printing press with a separate sheet of paper to which it is transferred. If a particular artwork employs a variety of colors, it is not unusual for up to 25 stones to be used in the process. Each piece of paper will run through the printing press for each individual color needed.

Dependent on the detail, care and amount of colors, each print may take skilled workers several months to create. However, the opposite is also true, if the prints do not employ a great number of colors or detail the product may be easily mass produced in a more cost and time effective manner.
Call The Pirate's Lair 540-659-6209
OPTIONAL - Trunk Wood Engraving Examples and Prices
Custom Designed, Handcrafted, and Hand Lettered in Caligraphy on your Antique Chest


Click Here To Review Sample Engravings

Personalize Your 100+ Year Old Antique Trunk in Perpetuity!

Engraving Fee: $100 Minimum or $5 per Letter.
Rare 1880 to Early 1890's Photograph of Antique Trunk Factory and Workers Using Albumen Silver Print Method, Mounted to a Period Board Which Dates The Photo
Note the Flatop and Two Monitor or Waterfall Trunks, Each Being Individually Unique at the Very Time of Production.


Click Photo For Larger View and More Historical Information!

The Pirate's Lair Exclusive!
We all romanticize about the mystique of these antique trunks. The possible owners and travels that each steamer trunk has taken, along with the high level of detailed craftsmanship in the original production of each and every steamer trunk with that individualized character giving both intrinsic and non-intrinsic value.

However the truth of the matter is that the majority of these trunks were made towards the middle to end of the 19th century just at the dawning of the industrial revolution here in America when there were no child labor laws or protections. This rare photo clearly illustrates at least 3 generations of owners and workers, ages appearing to range from pre-teen/adolescent, teens/early adult, through middle to old age!
It was a common practice that loyal and productive craftsmen would be allowed to bring their children to work with them to learn a craft, so many of the children in this photograph were more than likely sons of the men shown.

Note the adolescent factory workers on top row! Note that there are no women in the photo! This is due to the fact that at that time "proper" women did not work outside of the home, certainly not in a factory. Everybody appears to look pretty stern, having on their arms crossed and "work" faces put on.
Copy of Photo On Request With Every Trunk Purchase
NEVER A REPRODUCTION! ONLY AUTHENTIC 100 to 150 YEAR OLD FULLY RESTORED ANTIQUE TRUNKS FOR SALE AND FURNITURE FOUND @ THE PIRATE'S LAIR!
If it's a genuine original antique trunk by Martin Maier, Excelsior, Jenny Lind or Lois Vuitton from the Titanic or Master and Commander theme or a Pirates of the Carirbbean decor you are seeking for your home, office or as a unique gift, this is it! The real deal! What a great treasure to give someone who has just moved and relocated here to the United States! Each Antique Trunk or Antique Chest is the exact type used by the immigrants who travelled to and across America in the mid to late 1800's in seeking a new, better life, and adventure! They stored what little treasures they had into these trunks and set sail for a new world and a new life fraught with both danger and excitement. What better way to honor and remember those who settled this nation and have come before us! These fully restored Antique Trunks will become your legacy and a family heirloom passed down from generation to generation! We want you and your family to say "This Old Trunk" is the best! These Restored Antique Trunks would be perfect in a maritime ornautical decor, certainly in a waterfront home situation as they look just like naval "Sea Chests, Pirate Chests and Treasure Chests" we are all familiar with seeing in the movies!
BELOW YOU WILL FIND A TABLE LISTING ALL AVAILABLE RESTORED ANTIQUE TRUNKS FOR SALE WITH IMMEDIATE DELIVERY!
Dome Top Antique Trunk - #900
MOST UNIQUE! HUGE, HEAVY, SUBSTANTIAL!! 19th Century (1880s-1890s) Restored Antique All Wood Dome Top Trunk. Has That Sought After Heavy Duty Cast Iron Blackened Hardware with All Nail Heads with Gold Highlights. Hardware and Nail Heads Contrast Beautifully Against the Light Golden Patina of the Pine Wood Body and Oak Wood Slats. Has Original End Caps with New Leather Handles. Painted Black on the Inside. Heavy Duty Edge Guards. One Nail Strip Across the Body and Lid. Heavy Duty Brass Working Lock and Key but Does Not Fit Properly, Dated: Nov 1 1887. 3 Heavy Duty Decorative Rear Hinges and Front Latches. Heavy Duty Front Latches Dated: July 9, 1872 and May 21 1878.


Click Photo!

HUGE Dome Top Trunk
34"L x 22"D x 25"H
HEAVY - Local Pickup Preferred! A very unique constructed, well-built and substantial large size dome top trunk with lots of storage. If you are looking for and need a HUGE trunk then this is it and be a focal point in any room. This would make for an EXCELLENT REPURPOSE into a Military, Army, Air Force, Marine Corp, Coast Guard, or Navy retirement shadow box!

$1495.
Sold!

Call To Order
540 659 6209

Dome Top Antique Trunk - #876
Late 19th Century (1880s) Restored Antique Dome Top Trunk For Sale! Unique Features Include Polished Silvery Hardware Contrasting Beautifully Against the Beautiful Grain of the Natural Pine Wood Body and Red Oak Wood Slats. Features Polished Silvery Nail Heads, Protective Nail Strip Across the Body and Lid, Gorgeous Grain. Original End Caps with New Leather Handles. Dated Non-Working Brass Lock: Sept 3 1887, Aug 12 1879, Mar 16, 1869. Hidden Compartment Under the Lid. Fantastic Victorian Lithographs of Young Children, Women, and Men in Period Dress! Lift Out Tray w/ Lid and Special "Stay Up" Feature! 3 Heavy Duty Rear Hinges. - #876


Click Photo!

LargeDome Trunk
30"L x 19"D x 24"H
Another real "piratey" or treasure chest and they were not made much larger than this! Many features that any collector would prize and want in an antique restored trunk! May not be so perfect to repurpose into a Military, Navy, Army, Air Force or Marine Corps Shadow Box!

$1595.
Sold!

Call To Order
540 659 6209

Flat Top Antique Trunk - #828
Rare and Unique "Double Lock" Flat Top Antique Steamer Trunk w/ a Darker Red-Brown Finish to the Pine Wood Body and Darker Oak Wood Slats All Of Which Contrasts Beautifully with the Polished Silvery Hardware and Dual Dated Brass Locks (Oct 2, 1883). Features Include 2 Nail Strips Across the Front and Lid, Decorative Edge Guards, 4 Rear Hinges. Sawmill Impressions in the Wood From the First Cut. Original End Caps and New Leather Handles. Victorian Lithograph of Woman in Period Dress Under the Lid.

Dual Working Dated Brass Locks and Key!


Click Photo!

Medium Size Flat Top Trunk
32"L x 21"D x 22"H
A great mid-size trunk which will fit easily into an apartment or small room or man cave! The unique double or dual dated brass locks with key is very rare!

Call To Order
540 659 6209

American Whalers Seamans or Sailors Sea Chest Early 19th Century Documented Use From 1815 to 1862Rarest of the Rare in Nautical Antiques! A Fully 100% Documented Provenance of an Early 19th Century Sea Chest Used and Kept in the Family of Whalers and Sailors from 1815 to 1862. The sea chest was Originally Owned and Used Aboard a Whaler by Jotham R. Tripp of Westport, MA who Passed it on to His 4 Sons (Also Whalers) with Final Ownership by his Son Theodore J. Tripp Who Last Used it in 1862 On a Whaling Voyage 500 Miles North of Hudson Bay on the Bark "Orray Taft" Captained by the Famous Arctic Explorer George E. Tyson


Click Photo For Information!

L42" X W19" X H17" - Classic 19th Century Sea Chest Configuration with 6-board pine wood construction, dove tail joints, beveled edges and lid side skirts, wooden cleats and beckets, and a single fixed tray with lid. What is certainly unique about this sea chest is that it holds a secret shelf which can only be revealed and accessed by lifting up the side of the tray! The shelf bottom even has 3 finger cut outs to better facilitate its retrieval. Remnants still exist of the original green lead paint.

Kept by and used within the family of the original owner Jotham Round Tripp for over 115 years the provenance of this sea chest 100% documented and established from 1815 to 1930 upon the death of the last family seaman and owner Theodore J. Tripp. Just prior to his death Theodore wrote the brief history of this sea chest on the back of a 1928 1929 Kelloggs Rice Krispies inkblot advertisement! Mr. Tripp obviously was aware of his pending demise and was identifying the important things he had collected in his lifetime - his fathers sea chest which he himself also used as a seaman and sailor aboard a whaling ship. As written on the back of the Kellogs Card: "The Handwritten Note by Theodore J. Tripp reads: "This Chest was carried on a whaling voyage by my father Jotham R. Tripp in the year 1815 in a Barg commanded by Paul Griffin (could be Griffis, Griffen, or Griffes). Since it has been carried by three of my brothers. And last by me in 1862 in Bark Orray Taft (?) with Capt George Tyson wintering 500 miles north of Hudson Bay. Theodore J. Tripp""

Private Collection of The Pirates Lair

Displayed for Historical Purposes Only

HEAVY Antique Bookend or Doorstop - Hubley Pirate Treasure Chest!
Brass or Bronze. Each Weighs 3.5 lbs. Purchase Single or a Matching Pair. Great Companion Piece for Your Antique Steamer Trunk!


Click Photo!

Pirate Treasure Chest Bookend or Doorstop
6" tall, 3" across, 2.75" deep Each Weighs 3.5 lbs.
Solid Brass or Bronze! Very Kewl. Could also be painted in brilliant colors for those artists!

$75. ea
$135. pr

Call To Order
540 659 6209

Dome Top Antique Trunk - #516
Very Large All Metal Dome Top Trunk with a Silvery Cross-Hatch Pressed Tin Design with the Metal Oak Wood Clamps Having a "Fleur Di Lis" Stamped Design. Working Lock, No Key. Original Cast Iron End Caps with New Leather Handles. Unique Front Latches with Patent Date of "July 1, 1873".


Click Photo!

Large Dome Top Trunk
33"L x 21"D x 27"H
$200. Shipping! Recommend a Pickup! A nice solid antique dome top trunk with a fantastic exterior finish. Would perhaps be perfect for that 20 or 30 Year military or naval retirement gift and re-purposed as a shadowbox!

$695.
Sold!

Call To Order
540 659 6209

Roll Top Antique Trunk - #441
Large 100+ Year Old Late 19th or Very Early 20th Century (1890s-1900s) All Pressed Tin Exterior and Wood Interior Antique Barrel or Roll Top Trunk with Original Oxidized Polished Hardware Complimenting the Dark Blueish-Silvery Patina and Finish of the Pressed Tin Crosshatch Design and Wide Red Oak Slats! Remnants of the Original Black Japanning Still Intact. Working Lock, No Key. New End Caps and New Leather Handles.


Click Photo!

Large Roll Top Trunk
34"L x 21"D x 24"H
$200. Shipping! Recommend a Pickup! Lots of character to this one with the fantastic pressed tin crosshatch design, handsome grain of the red oak slats. PERFECT as a Military or Navy Retirement Shadow Box!

$695.
Sold!

Call To Order
540 659 6209

Wooden Antique Dome Top Trunk - #356
This is the MOST Fantastic Trunk We have EVER had the pleasure and good fortune to own, and it is currently used to keep customer files and folders here at The Pirates Lair. This Large Size 120+ Year Old All Wood Dome Top Restored Antique Trunk Has Beautifully Detailed Hand Carved Engravings with an Engraved Date 1897. A Handsome Rich Brown Patina, Black Japanned Hardware. Perfectly Working Front Latches with Plenty of Spring. Working Lock but No Key, Four Wheels, New 3-Ply Leather Handles.


Click Photo!

Large Size Dome Top Trunk
32"L x 19"D x 25"H
A solidly built 120+ year old antique trunk restored in a rich light brown butternut masculine finish. Victorian-era hand carved engravings make this a MOST rare and desirable trunk and a unique one-of-a-kind piece of American History!

Historical Display Only

Not For Sale
540 659 6209
IMPORTANT NOTICE: Due to our extensive availability of restored antique trunks, the manner and procedures in which we restore our trunks, and our high placement in the various search engines we receive over 10 calls and as many emails every day by well intentioned people asking us to provide opinions, comments, appraisals, and/or pricing on trunks which they own themselves. As you can imagine this can be overwhelming and take up quite a bit of our time as there is no "easy" answer, especially since all of these trunks are at best similar but not exact to each other.
So towards that end and trying to help without being overwhelmed while also being accurate, we can now offer written and verbal consultation, appraisal, and advice at $100. per trunk, non-refundable, paid in advance via Paypal. If this is something you would like to pursue and take advantage of first please email us at sales@thepirateslair.com and in the Subject line put "Trunk Appraisal". Please include what you are requesting us to do and we will contact you at that time for next steps.





Warranty and Terms of Service For Restored Trunks and All Products Offered by DataCity, Inc/The Pirates Lair

Click Here PAGE 2 - RESTORED ANTIQUE TRUNKS

Click Here PAGE 3 - RESTORED ANTIQUE TRUNKS

Click Here PAGE 4 - RESTORED ANTIQUE TRUNKS

Click Here PAGE 5 - RESTORED ANTIQUE TRUNKS

Click Here PAGE 6 - RESTORED ANTIQUE TRUNKS

Click Here PAGE 7 - RESTORED ANTIQUE TRUNKS

Click Here PAGE 8 - RESTORED ANTIQUE TRUNKS

Click Here PAGE 9 - RESTORED ANTIQUE TRUNKS

Click Here PAGE 10 - RESTORED ANTIQUE TRUNKS

Click Here PAGE 11 - RESTORED ANTIQUE TRUNKS

Click Here PAGE 12 - RESTORED ANTIQUE TRUNKS





Also shown are 2 Antique Dome Top Trunks circa 19th Century restored in such a manner as not to lose their beauty yet make them fully functional for contemporary use as a filing cabinet able to store up to 200 hanging folders and store away staplers, tape dispensers, and other clutter normally found in an office. Don't they look just like a Captains Sea Chest or Pirate Chest as they have that same nautical decor! Call 540-659-6209




Why have a handsome home or business executive office with "hum-drum ugly utilitarian steel file cabinets" when you can be outfitted with these antique 150 year old Dome Top or Flat Top Steamer Trunks, as wonderful antique nautical home furnishing! For that matter why settle for a nice and probably very expensive yet run-of-the-mill typical office desk when you can now have a true Captain's Desk befitting a Ship's Master and Commander. What a conversation piece either at work or at home. Our nautical themed antique hope chests, china chests and silverware chests are the perfect complement to store your U.S. Navy Tableware and Dinnerware!

The nautical furniture offered at The Pirate's Lair is by far the most unique and distinctive you will find anywhere on or off the net. Our nautical home furnishings offer more than just a nautical decor, but a slice of our Maritime History, a sense of romance and global travel, as well as honoring the ships and sailors of days gone by and the dangers they faced sailing the high seas in time of war.

Call 540-659-6209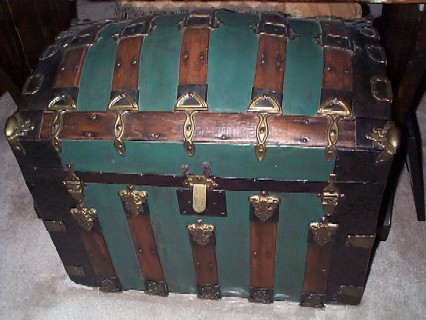 Above in detail is an all wood Nautical Domed Antique Trunk with the lid open showing how the chest was refinished so as to hang file folders and store office desk accessories. That distinctive "Titanic", "Master and Commander", or the popular "Pirates of the Caribbean" decor and theme, but no movie reproductions here, only the real thing!

Note the beautiful brown patina that only 130 year old wood can achieve. Truly a work of art, one can only imagine how and where this immigrants Steamer Trunk was used over the years, and who owned it. Now one can be yours, a legacy to be handed down from generation to generation!

To the very right is a close up of a Antique Trunk which can easily be used as an Antique China Chest, Hope Chest or even as Filing or Office Storage Cabinet with green and black metal cladding with oak wood straps. Each and every Sea Chest is unique and no two are the same, probably similar to the journeys that they each have taken over a century and a half of use.



The Pirate's Lair
Division of DataCity, Inc.
78 Canterbury Drive
Stafford, Virginia 22554
Phone: 540-659-6209

Click Here and Return to The Pirate's Lair Home Page www.thepirateslair.com for more products and company policy information.
Click Here For Product Warranty and Return Policies
"Service Disabled Veteran Owned Small Business"
Or
Email the-pirate@thepirateslair.com

Or Click HERE to return to The Pirate's Lair Home Page and Gangplank!


Copyright(c) 2008 All Rights Reserved - Unauthorized downloading, copying or use of any html code, text or images found on this or on any other pages within the www.pirateslair.com website will be prosecuted.

Music Credits: Donald Where's Your Trousers/Drunken Sailor medley by The Bards



ANY TEXT BELOW THIS LINE IS FOR THE SOLE BENEFIT OF INTERNET ROBOTS, SPIDERS AND OTHER DENIZENS OF THE DEEP

Restored Antique Trunks For Sale and Steamer Trunks, sea chests, can also be used as Antique Hope Chests, Antique China Chests and Silverware Chests to store your Naval China dishes, plates, cups and saucers as well as a Silverware Chest to store your vintage Navy forks, knives, spoons and serving utensils.
What better way to outfit a waterfront home, or a Captains Cabin than a antique trunk, steamer chest, or steamer trunk by Jenny Lind or Lois Vuitton!
Lest we forget this old trunk and the authentic antique nautical home furnishings and this old antique trunks for sale as found on this web site are all vintage and antique nautical furniture.
Original nautical decor and nautical theme of pirate chests, sea chests and treasure chests are authentic and there are no reproductions offered for sale at The Pirates Lair.
All offered nautical coffee tables, nautical desks are with a nautical theme are from restored WW2 Liberty Ship and Victory Ship Wooden Hatch Covers.


All restored antique trunks for sale and this old trunk, and sea chests, pirate chests, and treasure chests

Store your uniforms, flags, other naval militaria and mementos or used in a family heirloom treasures.
Beautiful Nautical Dome Top or Humpback Antique Treasure chest for a retirement ceremony or military promotion gift.