Rare 1880 to Early 1890's Photograph of Antique Trunk Factory and Workers Using Albumen Silver Print Method, Mounted to a Period Board Which Dates The Photo
Note the Flatop and Two Monitor or Waterfall Trunks, Each Being Individually Unique at the Very Time of Production.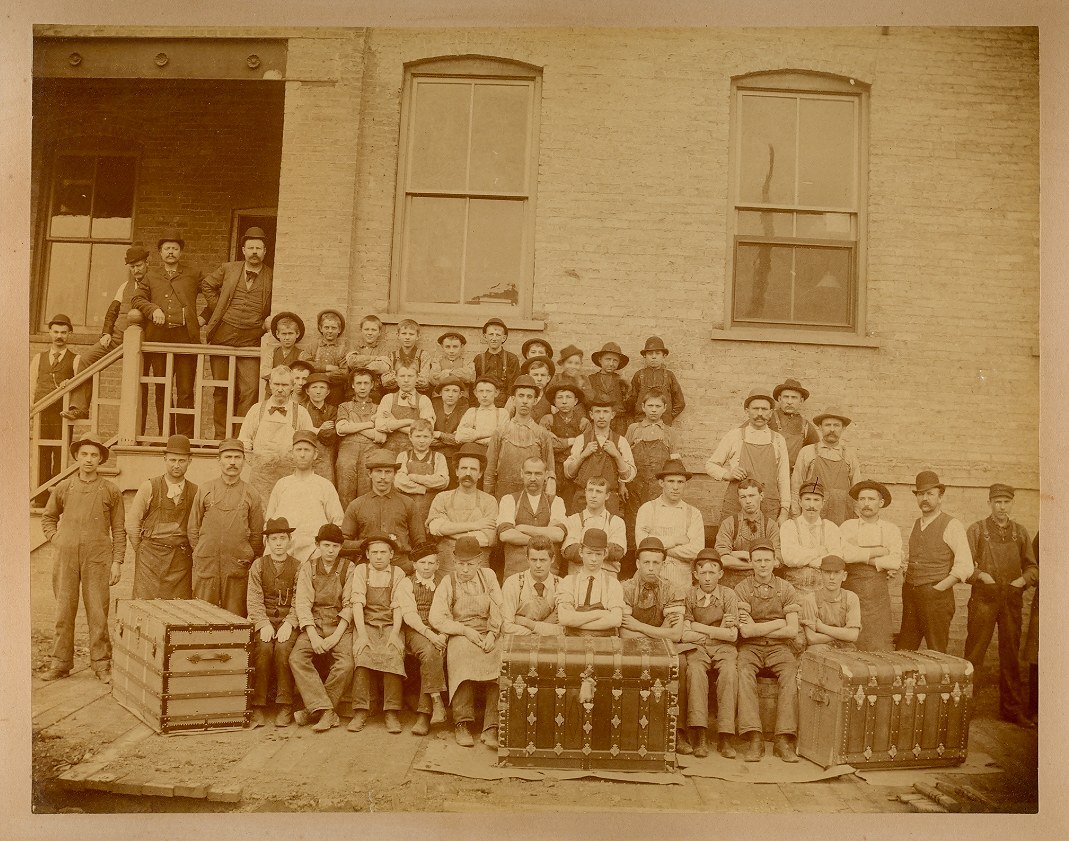 Click Photo For Larger View and More Historical Information!
The Pirate's Lair Exclusive!
We all romanticize about the mystique of these antique trunks. The possible owners and travels that each steamer trunk has taken, along with the high level of detailed craftsmanship in the original production of each and every steamer trunk with that individualized character giving both intrinsic and non-intrinsic value.
However the truth of the matter is that the majority of these trunks were made towards the middle to end of the 19th century just at the dawning of the industrial revolution here in America when there were no child labor laws or protections. This rare photo clearly illustrates at least 3 generations of owners and workers, ages appearing to range from pre-teen/adolescent, teens/early adult, through middle to old age!
It was a common practice that loyal and productive craftsmen would be allowed to bring their children to work with them to learn a craft, so many of the children in this photograph were more than likely sons of the men shown.
Note the adolescent factory workers on top row! Note that there are no women in the photo! This is due to the fact that at that time "proper" women did not work outside of the home, certainly not in a factory. Everybody appears to look pretty stern, having on their arms crossed and "work" faces put on.
Copy of Photo On Request With Every Trunk Purchase